Heard From 100 Meters!
Louder, and more intelligent, than anything else currently available!
There is nothing else like it!
Its on-board computer runs a massive amount of software analyzing every little movement, throughout the entire parking-session, watching for slow, sneaky attacks as well as fast, violent ones; and the response is a mean siren far larger & louder than anything available on bicycles nowadays. The fear it instils is instinctive!
The M!nder's large horn generates a loudness unmatched by a physically-small device.
When you return, it'll tell you if someone had messed with your bike.
Try it for a month. If dissatisfied, return it in original condition for a full refund.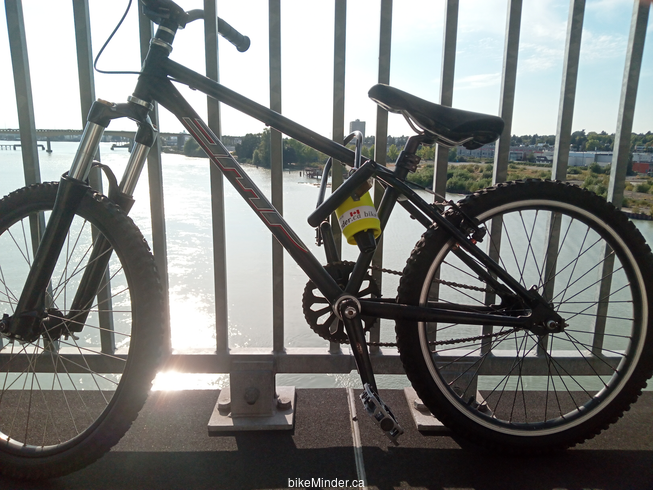 Free Shipping.
$210 CAD. Direct from the manufacturer: $120 CAD.
$90 USD.
£75 GBP. VAT+handling paid by customer, upon arrival.
€85 EUR. VAT+handling paid by customer, upon arrival.
Compact, lightweight, yet super-loud. Weighs only 350 grams (12 oz.), and measures 135×80×110 mm (5x4x3″).
Typically, it starts with a warning. But, for a fast, violent attack, it can 'floor it' to scare the shit out of the thief!
Can it be damaged by an angle grinder? Absolutely! What wouldn't! But the fact that the device is hanging will make things very difficult: He'll have to hold the device, which is a dangerous thing to do with an angle grinder! And, attacking the mount, or the padlock, causes even more shrieks–which is exactly what we want to happen!
He's gotta be really desperate to not choose a softer target (than your bike)!
And no passer-by is going to think, 'Maybe he lost his key!' If he's the owner, he has the password to de-activate the device with.
Unlike other systems, its intelligence reduces false alarms without reducing its sensitivity. (Might it be set off by a passing truck? Highly unlikely. A train passing on a bridge? Yes, but why would you park there! Wind? It's gotta be high speed; but, on very windy days/spots, simply position it to hang less freely!)
A basic padlock is needed; anything suitable for where you want to hang the device from. (No, it doesn't need a thick shackle.) It must hang freely. It's best to hang it from a U-lock as shown in the photos, and it'll watch for even your front wheel being tampered with–as shown in the videos.
Warranty of 1 year for manufacturing defects. Free shipping to US, Canada and Western Europe.
Subscribe to email updates:
---